Stellar VBS 2023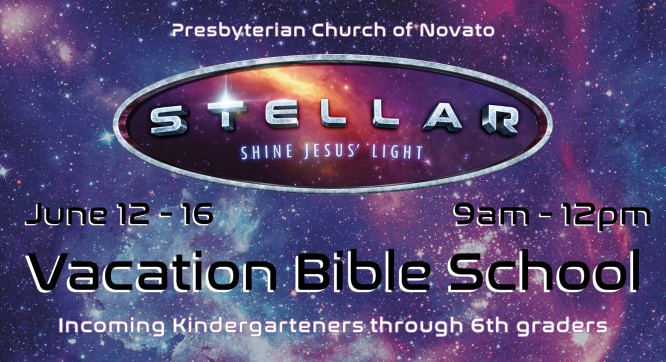 Incoming kindergarteners through 6th graders are invited to participate! Join us for 5 fun days, from June 12th - 16th, 9:00am - 12:00pm
Launch kids on a cosmic quest where they'll have a blast shining Jesus' light to the world. Stellar rockets kids on an out-of-this-world adventure that's light years of faith-building fun!
Sciency-Fun Gizmos™, team-building games, unforgettable Bible songs, and tasty treats are just a few of the standout activities that help faith flow into real life.
Registration is $60 for one child and $30 for each additional child. Confidential scholarships are available to those in need.
Middle and High Schoolers – We have a spot for you as well!!
Come join us as a crew leader! The crew leader will lead a small crew of approximately five elementary-aged kids. There's no preparation required but one-hour group training is encouraged. A good crew leader is a friend and helper for the kids and station leaders. They ask questions, take kids seriously and encourage them throughout VBS. Also, we offer community service hours.
We Need Volunteers!
There are so many ways to be involved, you can sign up for one day as well. If you are not available on the VBS dates, you can still help with the preparations!
- Decoration Team (Before VBS)
- Games Station Leader (8:30am - 12pm)
- Games Station Helper (8:30am - 12pm)
- Crafts Station Leader (8:30am - 12pm)
- Crafts Station Helper (8:30am - 12pm)
- Kid Vid Station Leader (8:30am - 12pm)
- Kid Vid Station Helper (8:30am - 12pm)
- Snacks Station Leader (8:30am - 12pm)
- Snacks Station Helper (8:30am - 12pm)
- Drama Station Leader (8:30am - 12pm)
- Tech Help (8:30am - 12pm)
- Photographer (8:30am - 12pm)

If interested please contact, Sydney Fletcher at