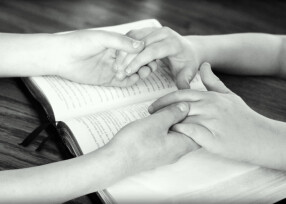 The ministry of caring is at the heart of our church's life.
We want to be a loving reminder of God's presence in painful seasons of life as well as seasons of joy. We provide support to the bereaved, hospitalized, terminally ill and others facing a crisis or life challenge. Our pastors, deacons, and Stephen Ministers are available to walk with you through the trials and joys of life.

To connect with any of our caring ministries please fill out a contact request form (link boxes below), or call the church office at (415) 897-6152 and one of care givers will contact and help you as they can*.
* Please note that all care and support from our ministers is kept completely confidential.
Care and Support Ministries
Pastoral Care
Our pastors are here to offer our emotional and spiritual support to you when you're going through a difficult time. Please reach out to us if we can be of help. We're available for hospital visits, home visits for the homebound, and appointments with anyone who needs listening, encouragement, comfort, care guidance and prayer.
Memorial Services
A Christian memorial service is a worship service which offers an opportunity for loved ones to give thanks to God for the life of the deceased and to hand he or she over to the loving arms of Jesus Christ, our Savior. In our memorial services, we affirm that Jesus, in his own death and resurrection, defeated the ultimate power of death, and because He lives, we too, shall continue to live with him forever. Our church family prays that God's grace will be with you as you face this time of loss. We want to extend God's love to you in what we know is often a difficult time. Please contact the church office at 415-897-6152 for more information on planning a memorial service/reception at the church, and associated fees.
Wedding Services
Planning a wedding is both exciting and stressful. Couples getting married know that their wedding day is much more than getting the right flowers or venue, but those practical details can get in the way of a focus on the couple's faith and trust in God's love in the sacrament. If you've had your wedding planned since the fourth grade – or if you're at a loss for where to start, our pastors and wedding planner will help answer questions you have about a Christian wedding at our church, and give you practical ways to keep God, your faith, and love at the center of the big day. Please contact the church office at 415-897-6152 for more information on planning a wedding service/ reception at the church, and associated fees.
Deacon Services
Our deacons are ordained lay people with a special calling to care for the congregation and the community. Deacons are available to offer confidential support for short-term situations and for longer-term needs. We supplement the pastoral care provided by the pastors, and we coordinate with the wide variety of organized caring ministries at the Presbyterian Church of Novato to assist in your need. Below are the support services our Deacons offer:
Visitation: We visit members and friends in hospitals, nursing homes, or assisted living facilities; the homebound; and anyone else who just needs a friend or listening ear, and are happy to visit with you or pray with you.

Convalescent Ministry: One Sunday per month, a worship service is conducted at Creekwood Convalescent Hospital under the direction of one of our pastors, a deacon, musician and other church members.

Meals: We coordinate providing meals on a short-term basis during illness, after hospitalization, during family emergencies, and also for new parents.

Memorial Reception Support: We provide food and hospitality for members' funeral receptions at no charge. We also offer information and comfort to the families as needed.

Transportation: Members can get help with transportation to and from church or to doctor appointments, when other resources are not available.

Cards: We coordinate a card ministry as another way to provide comfort and care to those in need; and also provide special communication to our military personnel and their families.

One-Time Financial Assistance: We administer a fund, provided by member donations, to assist members and friends with confidential, one-time financial assistance for such things as utility payments or other urgent needs. Whenever possible, prospective recipients are first referred to community resources, to ensure good stewardship of the funds contributed by members.

Prayer Chain: Prayer teams offer support, upon request, for people inside or outside our congregation.

Prayer Quilts: Quilts are available for anyone needing the comfort of God's love. Call the church office for more information 415-897-6152.

Medical Equipment Sourcing: Other than buying new medical equipment, The Marin Medical Equipment Recyclers is a great resource for free use of repaired and recycled medical equipment, and they can be reached at marinmer.org or 415-388-8198. The Deacons can also assist with any matching your need of member-donated canes, wheelchairs, crutches, walkers, shower stools, and other items, which we are happy to loan out.

After-Worship Coffee and Fellowship: The best way to connect and fellowship with other Christians is after our worship services, where coffee, food and conversation are hosted by our Deacons.

Annual Blood Drive: Deacons host a blood drive provided by Vitalant (formerly Blood Centers of the Pacific) as a community outreach program focused on saving lives.
Please contact our church office at 415-897-6152 or click on the I NEED HELP box below and fill out and enter a Need Request, and someone from our church will contact you to see how we can help.
Stephen Ministry
We all experience challenges in life, times when we could benefit from the support of Christian compassionate care. Stephen Ministers are gifted, called, and committed individuals who come alongside others in our church and the wider community. They serve as an extension of pastoral care, providing confidential one-to-one support at no cost. Our Stephen Ministers are equipped through an extensive training course that is Christ-centered, Spirit-guided, and biblically based.
Should you need our services, please contact our church office at 415-897-6152 or click on the I NEED HELP box below and fill out and enter a Need Request, and someone from our pastoral staff or Stephen Ministry will contact you to see how we can help. Please note that all contact will be held in the utmost confidentiality.