Life Groups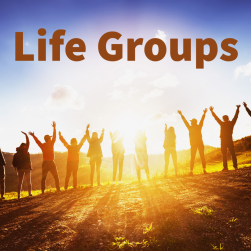 Greetings from Community Life! We are excited to begin our Life Groups program.
In the second half of 2021, the Session of PCN shared a new strategic plan that reflects and lives into our vision for the future: to be a "beacon of hope reviving the world through God's love."
Through a series of town hall meetings and surveys, together as a congregation we created a list of ministry priorities at the church. At the very top of the list was building connections "with God, with each other, and with the community around us." A part of this strategy was the creation of a Life Groups practice and culture; a practice that would eventually be directed by a new Director of Community Life possibly transitioning into an Associate Pastor position.
And the time is here! The PCN Life Groups ministry is coming! So you're probably wondering:
WHAT ARE THEY?
People best connect to God and the Church through relationships; and relationships are developed, grown, and fostered not in large groups, but in small ones. Think of Jesus' ministry. He did all these big spectacular things, talked to crowds, performed miracles, but think of how Jesus modeled disciple-making. What did he do?
He developed disciples in community. He called 12 disciples from the area in which he lived and said, "Follow me. Do what I do the way I do it."
That was Jesus' strategy for changing the world. It was the strategy that the Apostle Paul took up as did the early church. Create community.
Pass the faith one small group at a time.
Change the world one small group at a time.
Fulfill Jesus' mission one small group at a time.
Think small to develop big faith.
Life Groups are intentional small groups created for the purpose of journeying with other followers of Jesus and growing both as individual disciples and as the Church together. They are groups where we practice 'being the Church' together. In them, we:
Have fun. Share food and fellowship. Ask faith questions that come up in our everyday lives. Pray together. Check-in on each other. Practice love, forgiveness, compassion, help, etc.
These groups are our opportunities to give of ourselves, our time and energy, to be in community and to grow together in our faith.
At PCN, we see Life Groups not simply as a program but as a part of how we can intentionally BE the Church today. It is our hope that the whole congregation be a part of this, to conscientiously choose to foster our relationships with the church community. We will be working to have options for everyone, including Zoom for those who can't meet in person.
WHY SHOULD I CARE?
In today's world, even within the church, there are so many options we have for groups to join. We all find our places of belonging in different groups, but how many of those groups are focused intentionally on being the Church, growing in our faith, caring for one another, and connecting to God, each other, and the community? Probably not very many.
Life Groups are not Bible studies. They are not curriculum-based. Leaders don't control the content of gatherings; rather each group shapes its own identity together. They decide what they do when they gather. Where they gather. How often they will gather. If they'll have five-course meals or backyard BBQs. Life Groups are shaped by you.
The things all groups will have in common, and what leaders will be trained to help facilitate, will include prayer, disseminating information about opportunities and ways to connect at PCN, how we can practice service to others, how we share the gospel with our neighbors and some platform for sharing and reflecting on our lives together.
HOW DO LIFE GROUPS WORK?
Here is PCN's process for Life Group formation:
Step #1 (Summer 2022): Advertise and share what Life Groups are, why they are important to our life and ministry at PCN, and how to connect with them.
Step #2 (Summer 2022): Invite EVERYONE who is interested to sign up to be a part of a life group. Sign-ups will include members listing their availability to meet.
Step #3 (Summer 2022): Recruit Life Group Leaders
Step #4 (8/14/22): There will be a Life Group Potential Leader gathering after worship on August 14th. For those considering this role, this will be a great opportunity to learn about what it entails and if they feel called to serve in this way.
Step #5 (8/25/22): Life Group Leader Training will be after worship on August 28th.
Step #6 (Fall 2022): The Leaders will be introduced in worship.
Step #7 (Fall 2022): The Community Life Committee will form the Life groups based on leader's and participant's availability to meet. Once the groups are put together, each participant will be sent a list of their group and leader.
Step #8 (10/8/22): The official Life Groups kick-off will be on Sunday, October 8th at our Grace and Giving Fest (which is a new event that combines our Consecration Sunday, Ministry Fair, and a new community festival all into one). You will meet your Life Group leader and your Life Group on this Sunday. From here, your Life Group leader will correspond with your group to set up an initial meeting where you will begin to develop meeting days, times, frequency, etc.
We hope you'll join a Life Group and be part of this exciting new ministry. The link to the interest form is below, and paper forms will be available in the narthex on Sundays and in the office during the week.
If you are interested in being a life group leader, hosting a life group in your home, or attending a group via zoom please also note that on the form. We hope to have groups for everyone who is interested in growing as a community.
Life Group Leader Exploration Class - August 28th
Upcoming Dates to remember:
Life Group leader training: August 28
We look forward to helping you connect in Life Groups!